For information on Envisage Pregnancy Centre's Virtual Baby Bottle Campaign and ways you can donate check out https://envisagepregnancy.ca/baby-bottle-campaign/
A Good Measure
One of the greatest gifts that my Dad gave me was the desire to use my hands…  It was by watching him work, and his invitation to join him in building things that I learned to love building and creating.  Along with this desire, another great gift he gave me was the chance to learn from my mistakes.  More than once I uttered that famous phrase, "Darn, I cut it twice and it's still too short!"
Yes, sometimes I am a slow learner. Read more…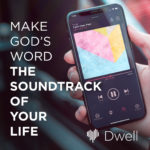 We have a resource that we think could be a real blessing to you right now. It's an audio Bible app called Dwell, and you can get 60 days of free use by going to this link:
https://dwellapp.io/signup/with/YfhL7Q
Dwell is a wonderful way to take in more Scripture throughout your day.  Please check it out! 
Online Worship Services…                                                                                                              Sunday Worship is taking place, together with our brothers and sisters from Westminster Presbyterian Church in Barrie as an online streamed event. Join us Sunday mornings at 10 a.m.   https://westminsterpc.ca/youtube-stream                                                                                           New Life Church in Collingwood has online services Sunday at 10 a.m. and Wednesday at 7 p.m. https://www.youtube.com/channel/UCIhSx-Fn7L7BqLwVk3t8rhw
Christian teaching and blogs…                                https://emmanuelpresbyterian.blogspot.com/                                                                       https://theupdevo.com/